Lisbon was not all just eating delicious things and walking around. Some of it was drinking delicious things and walking around.
Port
One of our favorite spots was the Solar do Vinho do Porto, which people love to hate on the internet. Like many places with excellent product, the servers get grumpy when tourists ask "what's good?" Answer: it's all good, it's Port.
Time for a port lesson, if you don't care skip to the next image.
Port starts its life like wine. Mash up some grapes, let the yeast go to work chowing down on grape sugars, and voila, out comes alcohol. In the case of port, this glorious process is interrupted. Partway through the fermentation, high proof alcohol (typically grape brandy) is added to the mix. This brings the ABV up to about 20%. No yeast can survive that kind of environment, so fermentation stops.  This is why port is sweeter than most wine; not all the sugars from the grapes got converted to alcohol by the yeast.
Breaking it down, there are three well known kinds of Port.
"Ruby" port is a fresh bottling of unaged port, which may have been stored in concrete or stainless. It will probably not get better with age.
"Vintage" port is port from a year that was deemed exceptional by that maker, that has spent 20 months in oak. On average there are about three vintages/decade. Vintage port is not ready to drink when it goes to the bottle. It's bottled with sediment, and the contents will mature in an unopened bottle for decades. Once opened you're supposed to drink the bottle within 2-3 days.
"Tawny" port is aged port that spent its time in wooden barrels. No age statement on the bottle usually means ~3 years. Official age statements are 10, 20, 30, and "more than 40" years. Once it's in the bottle, it's already done all the aging it will do.  It also keeps relatively well once opened, since it oxidized thoroughly with all that time in the wood.
Our favorites were these two beauties; a 1982 Dalva Colheita tawny, and a 2007 Late Bottle Vintage (LBV) that I forgot to write down the maker on. Neither of them quite fit into the categories above.
The Colheita tawnys have a harvest date (in this case 1982) that all grapes in the bottle came from. All are aged at least 7 years in oak, though often times more. Presumably this one was at least 25 in the barrel, since the bottle was relatively new.
The Late Bottle Vintage (LBV) style is also a little bit of a hybrid. Like vintage port it's all grapes from the same year, but unlike vintage port it spends significantly longer in oak (4-6 years). It can mature a little in the bottle as well. It's basically a poor man's vintage port.
As for taste? The tawny had the rich raisin/nut/vanilla flavors I love in the style. The LBV had more fresh grape taste, though maybe not as much complexity. We're generally fans of the tawny style, which I guess makes us not very classy or something.
Lambic
Our AirBnB happened to be about a block away from Lisbon's top beer bar. I swear we didn't plan it that way. Portugal (like most of Europe) is still on the IPA kick in the craft scene. We stuck to the belgian stuff.
The first night we went in I tried a St. Bernardus ABT 12 and Tiara picked up an Oude Beersel gueuze. While we were drinking those, I noticed they had some bottles of De Cam Oude Lambiek. This is one of the esoteric rarities you get excited about when you go too far down the beer rabbit hole. It's not that the beer is super popular (like, say, Cantillon), it's just that they barely make any of it. It's basically some dude in the Belgian country side who gets barrels of wort from Girrardin, Boon, Drie Fonteinen, and Lindemans, ages them in old barrels, then blends them together. It's not even his full time job. De Cam turns out about 128 barrels/year. Compare that to 1,500/year for a mid-sized craft brewery like Russian River, or 640,000/year for Lagunitas and you can understand why you don't usually see De Cam on the shelf.
We came back on a rainy day to try a bottle of the Oude Lambiek.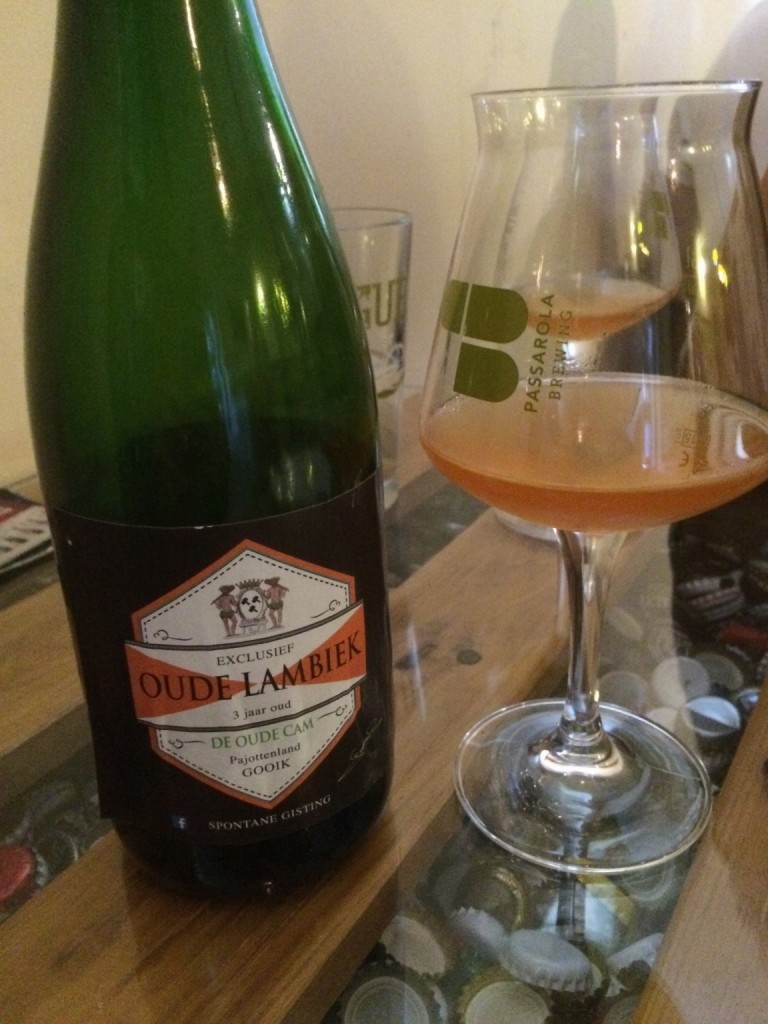 First impressions were mixed. The style is totally flat. It's also very dry, so the experience is closer to drinking a crisp white wine than it is to drinking a pilsner. I'm still coming around on the idea of flat beer, and honestly I think I would have preferred it with some bubbles in it. But the flavor was great. Nice tartness, good funky aromatics, and some lemony apricot fruit flavors.
Bonus Pictures
If you made it this far, you deserve some pictures.
This first one's a railing. Nothing unusual about it. Just a railing. If you're seeing male anatomy all over it, that's on you.
Here's a piece of very thorough yarn-bombing: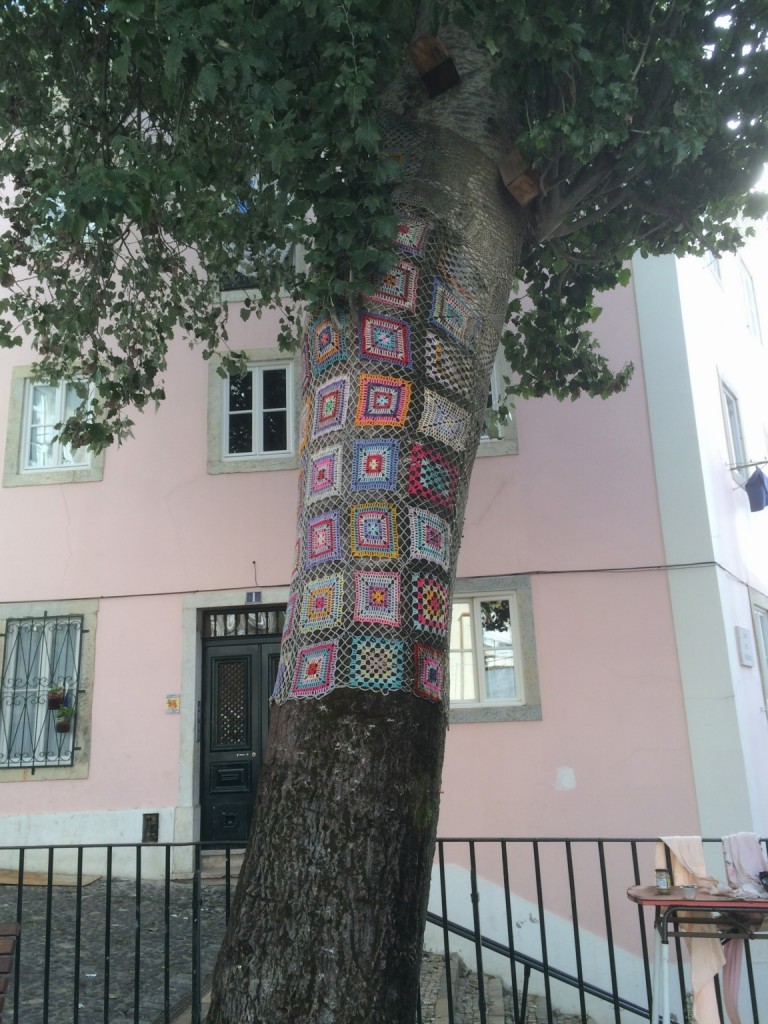 And lastly, Lisbon's worst bathroom: